The city of Tokyo is exposed to many possible natural disasters such as earthquakes, typhoons, tsunamis, and even volcanoes. People living in or visiting Tokyo need to be prepared for a wide variety of natural disasters that may occur at any time. We have provided disaster prevention strategies that can help. Here is a list of Tokyo Emergency & Disaster Relief Services.
Tokyo Emergency & Disaster Relief Services
Emergency Telephone Numbers
At any time we all might need help from the police, ambulance, fire department or other kinds of government services. Below is a list of all the relevant Emergency assistance telephone numbers in Tokyo.
Police: 110
Fire Department: 03-3212-2323
Ambulance: 119
Japan Helpline (24hr Emergency Assistance): 0120-461-997
Tokyo English Counseling Service: 03-5774-0992
Foreign Residents Advisory Center: 03-5320-7744
Medical & Health Information Center: 1. 03-5285-8181 2. 03-5285-8185
Embassy Contact Information
If during a large natural disaster there might be a reason to contact representatives of a person's home country. Here is a list of countries Embassy Contact Information in Tokyo. Each embassy will have its own Tokyo Emergency & Disaster Relief Services so be sure to check them directly using the links below.
If you cannot find your country's Embassy Contact Information above. This is a list of the worldwide representative countries Embassy Contact Information in Japan.
Disaster Preparation Steps
In Tokyo, it might be a good idea to take some preventative actions in case of a natural disaster. Here are some good tips that can help navigate a natural disaster more comfortably.
Secure your house to protect from Earthquakes and Typhoons. It's very important to Earthquake-proof your house in order to prevent items like TVs, bookcases and other items around the house that might fall down during an Earthquake. Store heavy objects on lower shelves and do not place heavy objects, paintings or mirrors above beds or where they may fall and cause injury. Outside balcony objects need to be secured or removed to protect from high-speed winds and rains during typhoons.
Learn where your neighborhood earthquake shelter is located. This may be very important if your home becomes damaged or unlivable and you might need to have access to drinking water, food, and other assistance. Also, learn where your local neighborhood parks and public toilets are located.
Choose a designated Emergency Meeting place. The designation of a particular meeting place in case of a disaster or emergency is essential to be able to reunite with your family or friends together in Tokyo. The telephone and the mobile telephone provider's services will most likely be out of service and there will be no other way to communicate with others. If you have children attending school or child-care, know the school's emergency plan and how to make contact with them.
Stock up on important living supplies at your home. At your home, there needs to be a good collection of canned or dry foods, important medicine, and clean drinking water. The amount of the total number of days of supplies to keep stored will depend on the size of a household's needs, but most experts say between 7 and 14 days should be sufficient. This level of supplies needs to be maintained AT ALL TIMES!
Pack an emergency survival evacuation bag to go. This bag needs to contain cash, passports, essential medication, foods, water and spare clothes for each member of your family. This bag needs to be easily accessible to be able to grab and go at a moment's notice.
Create various ways to contact your friends and family. It's a good idea to have a few different ways to contact your family or friends. The use of communication Applications and(or) Social Media sites like Facebook, Line, Twitter or other online networks is a great option.
Register for information alerts. These emergency alerts can be ordered from your ward office and your country's embassy.

NHK World has prepared some video instructions for protecting yourself both inside and outside during an earthquake.
Disaster Information Communication & Apps
These are the best ways to gather information in Tokyo during a natural disaster or emergency.
NHK Television (Channel 1) This is the best place on television to get up to date, visual information on the location of any disaster. NHK is able to source information from the Japan Meteorological Agency and deliver information about earthquakes almost instantly.
NHK World also has an app that you can find here, please follow the instructions to set up emergency notifications here. It is a good news source but also extremely valuable during an emergency as announcements are made in English and other languages.
The Japan Meteorological Agency (JMA) The JMA website is bilingual and has up to date information about earthquakes, tsunami warnings, and typhoons, among other useful information.
The NHK App and JMA work together to produce a warning level for storms and typhoons, you can find the explanation of it here. The threat levels are indicated below.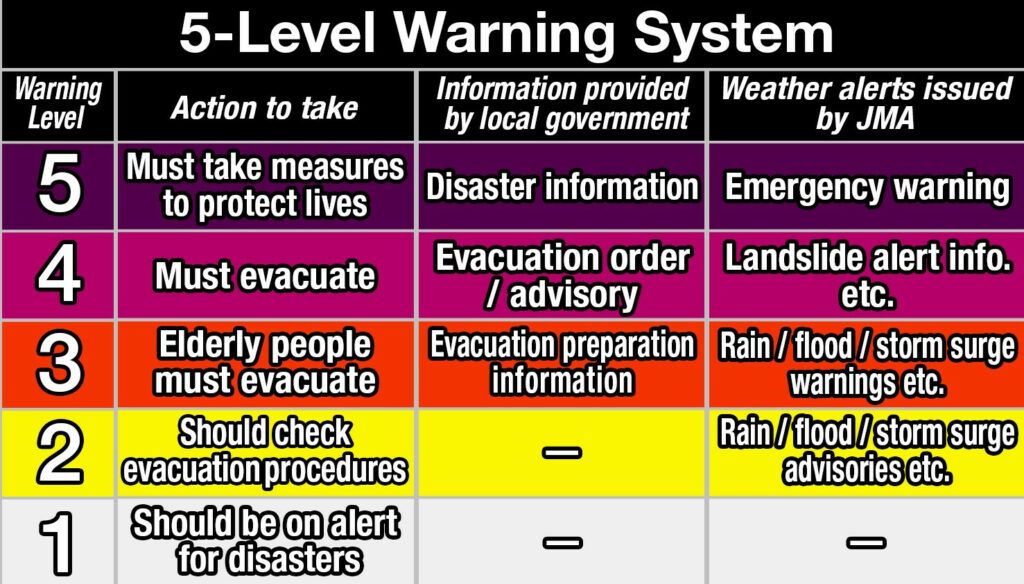 The Yomiuri Shimbun The Yomiuri Newspaper is the largest in Japan and will have the full coverage of disasters and news events from Tokyo and all over Japan.
English Speaking Radio Broadcasters
The radio and broadcast system in Japan is extremely robust and should TV or the Internet be down because of an emergency, you can be assured that the radio system will be up and running. Tokyo Emergency & Disaster Relief Services are broadcast on FM and AM radio channels. The local radio stations include Inter FM (76.1FM Tokyo, 76.5FM Yokohama), The Eagle (810AM) and the bilingual format of NHK (693AM) are the main ones to save or access. Having a backup radio in your emergency kit is a great idea. The US embassy has a list of important radio frequencies here which are the American Forces Network (AFN), this is the American army/navy/airforce AM and FM radio program and channels, they will provide emergency information in English during a crisis.
AFN Tokyo (810kHz, AM)
AFN Iwakuni (1575kHz, AM)
AFN Sasebo (1575kHz, AM)
AFN Okinawa (89.1MHz, FM)
Disaster Assistance Information
After a major disaster, it might be necessary to receive government assistance. Here is a list of places that can help out in case of an emergency.
Tokyo Metropolitan Government Site
Tourist Information Center (JNTO) The Tokyo (JNTO) Tourist Information Center is located B1F in the Tokyo International Forum, next to Yurakucho station. Telephone: 03-3201-3331
Transportation Contact Information
During a natural disaster such as an earthquake or large storm (typhoon), it might be necessary to gather additional information about the current condition of the Tokyo transportation system. These are the Tokyo transportation contacts to learn if there are outages, delays or schedule changes.
Tokyo Area Airports
Tokyo International Airport (Haneda)
Tokyo Area Trains
Shinkansen (High-Speed Trains)
Medical Assistance
There might be a time where you might need some urgent help. Here is a list of Tokyo area medical or dental assistance professionals.
Thank You for visiting Tokyo Live news & entertainment. If you enjoyed our Tokyo Emergency & Disaster Relief Services page. Please take a look at Tokyo Area Beaches, Tokyo Fishing Spots, or Tokyo Public Parks pages.